Roofing Dublin
For All Your Flat, Slate, and Tile Roof Repairs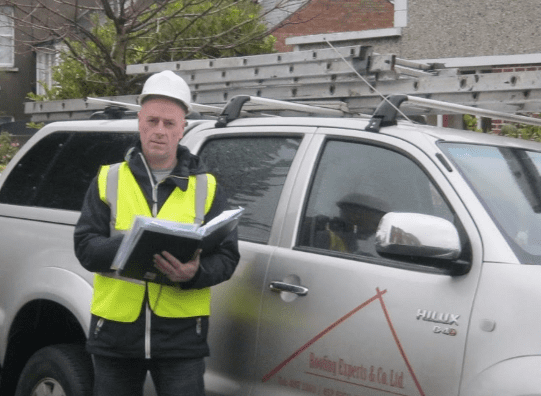 Welcome to Roofing Experts and thank you for visiting our site for Roofing Dublin.
If you have a roofing problem, or just need some friendly professional advice we are here to help! Whatever your roofing query, we can advise you on the best, most cost-efficient solution. Browse our site to find further information on our range of products and services, or go straight to the "Contact Us" page to leave your query. One of our Dublin roofing experts will get back to you to discuss your individual requirements.
We are dedicated to customer care and work closely with our clients to find affordable solutions to whatever problems they are encountering.
Slate And Tiled Roofs
Slate roofs have a very long-life expectancy. Whether you need broken slates repaired, or the entire roof re-slated, our experienced Dublin roofers can carry out the work to the highest standard.
PVC Fascia And Soffit
Damaged or dated fascia and soffit can make your home look untidy and tired. We provide a repair or replacement service at very affordable rates.
Lead and Copper Valleys
Large volumes of water pass along the valleys of your roof, so even the slightest damage can cause considerable leaking. At Roofing Experts, we have extensive experience with working on Lead and Copper Valleys on roofs.
Restoration And Conservation Work
The roof of your house may bear the brunt of bad weather, so it is essential to keep an eye out for any possible damage. As a long-established roofing business in Dublin we have many years' experience in the restoration and conservation of roofs.
Velux Windows
If you need to brighten up a room and add ventilation then Velux windows may be the solution. We supply and fit all ranges of Velux roof lights and will be happy to discuss your requirements and the different options available for roofing Dublin.
Flat Roofs Repair
Flat roofs are liable to buckle and/or tear allowing water to enter your home. Our experienced roofers can replace old flat roofs with the highest quality materials providing a 15-year guarantee on all new work completed.
Guttering Repairs And Replacement
Old or cracked guttering can lead to water damage to your walls, windows or foundation. Our experts in roofing Dublin can reseal or replace your guttering and secure loosened downpipes
Attic Insulation
It is estimated that almost 50% of heat loss in any home is due to a poorly insulated attic. At Roofing Experts, we provide a full Attic Insulation service and will be happy to discuss the different types of insulation material available and what is best suited to your home and budget.
Chimney Flashing
Any damage to the flashing that connects the chimney to the roof can result in water seeping in and damaging the internal structure of the chimney. Repairs to flashing should only be carried out by a qualified professional. Roofing Contractors will be happy to assess any damage and provide you with the correct solution.
Waterproofing
Moy Materials has approved Roofing Experts & Co. Ltd as one of their fully trained approved contractors to supply and fit all their PARALON roof systems. This waterproofing system has been in use since 1981 and is noted for its quality and durability.
DUBLIN ROOFING EXPERTS FAQs
HOW MUCH WILL ROOFING REPAIRS COST?
For small jobs, we may be able to give an estimate of cost over the phone for roofing Dublin. However, until we have fully assessed the problem and any resulting damage we will not be able to give you an exact cost. Contact Us now to speak to one of our experts, or to arrange an appointment. We will be happy to call to your property, at a time that best suits you and suggest the best possible solution to your problem, at an affordable price. Our roofing experts will then carry out the work to the highest standard.
DO MINOR LEAKS NEED TO BE REPAIRED IMMEDIATELY?
Absolutely! A minor leak may seem like a small irritation, but if left untreated it can cause major problems. Water damage could weaken your roof and lead to a far more serious problem in the future. A minor leak is easily fixed, but water damage which occurs over a long period could lead to sections of your roof, or even the entire roof needing to be replaced.  Contact Us today to get the minor leak repaired by one of our experts.
HOW DO I KNOW IF I NEED A NEW ROOF?
If you've noticed missing or cracked slats, damaged or missing tiles, torn or loose felt, or you have leaks in your attic or staining to any of your interior walls and ceilings, you will need to have this looked at. This includes flat roofs also and our roofing contractors in Dublin will be able to advise you on whether you need a new roof or whether roof repairs will be enough.
WHAT OPTIONS DO I HAVE IF I DECIDE TO RE-ROOF?
There are a couple of different options available. You can choose to have a complete roof replacement which involves removing the old roof. You may choose to re-cover your existing roof which involves installing a new membrane and resurfacing it. If you've already had a recovering you will need to check if your surface can support a second recover. Our roofing contractors will be able to advise you on this.
DOES A ROOF RESTORATION ADD VALUE TO MY HOUSE?
The roof is an integral part of the structure of your home. A shabby, old roof will make your entire home look tired and neglected. If you are considering selling your property, this could be very off putting for any potential buyers. A new or restored roof will make your house appear fresh and well cared for. It could add substantially to the value of the property. Contact us now to talk through your options.
CAN I CARRY OUT ROOF REPAIRS MYSELF?
Roof repairs should be carried out by experienced professionals. An untrained person can do more harm than good by trying to fix even a minor problem.  As Dublin roofing contractors, we have been in business for 40 years and are experts in our trade. Contact Us now to discuss your roofing issues.
ARE THERE THINGS I CAN DO AT HOME TO MAINTAIN MY ROOF?
Yes. There are a number of things you can do to maintain the life of your roof. There are certain areas that you should check in spring, summer, and winter. These include checking for loose slates/tiles, checking for water pooling on flat roofs, looking for torn membrane, and cleaning gutters.
HOW LONG SHOULD A ROOF LAST?
The lifespan of any roof depending on the type of roof you have. The local environment and the maintenance you carry out can also have an effect. Proper care, repair, and maintenance will ensure you roof lasts a lifetime, but you should always check your warranties after any work is carried out to see how long you are covered.