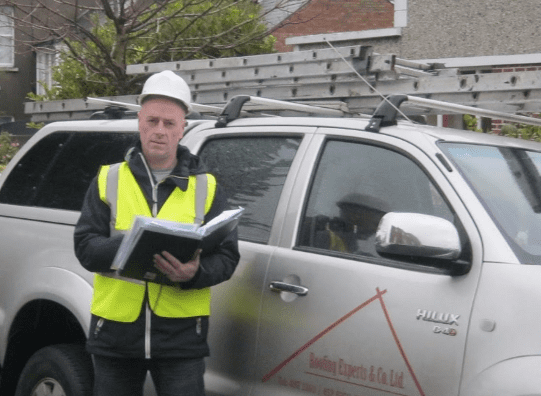 If You Have a Roofing Problem, or Just Need Some Friendly & Professional Advice, We Are Here to Help
Welcome to Roofing Experts and thank you for visiting our site for Roofing Dublin. Whatever your roofing query, we can advise you on the best, most cost-efficient solution. Browse our site to find further information on our range of products and services, or go straight to the "Contact Us" page to leave your query. One of our Dublin roofing experts will get back to you to discuss your individual requirements. We are dedicated to customer care and work closely with our clients to find affordable solutions to whatever problems they are encountering.
Slate roofs have a very long-life expectancy. Whether you need broken slates repaired, or the entire roof re-slated, our experienced Dublin roofers can carry out the work to the highest standard.
Flat roofs are liable to buckle and/or tear allowing water to enter your home. Our experienced roofers can replace old flat roofs with the highest quality materials providing a 15-year guarantee on all new work completed.
Damaged or dated fascia and soffit can make your home look untidy and tired. We provide a repair or replacement service at very affordable rates.
Gutter Repairs & Replacements
We specialise in replacing and repairing gutters. This includes re-sealing joints – installation, re-securing of down-pipes and cleaning of all types of guttering systems.
Lead / Copper Valleys Repairs
The valley of a roof is the segment where the roof changes direction or a dormer or bay window is installed. Simply put, it is the portion of the roof where two slopes meet. It is covered by different types of materials.
House insulation is very important to help prevent heat loss and to reduce energy costs. We offer a variery of insulation options.
Resoration / Conservation Work
The roof is a very critical indispensable component of any house. Not only because it gives a house an elegant finish but roofing is also a very expensive undertaking.
A chimney flashing is a watertight metal sheet that secures the roof and the chimney. If this has lifted or expired then it can cause leaks to seep through the chimney which can cause internal damage to the chimney area such as cracks, dislodged or slipped tiles/slates.
 Velux Window's add entra light in any room. They are not only beneficial in enhancing the interior environment, the natural light allowed in also has health benefits.